You can help as well!
When I had heard about the project Ojala in 2000 during a fundraising activity, for the first time, I was initially very sceptical. A small initiative based in Hamburg, which collects money for Ecuador? Who will guarantee that the money will actually reach Ecuador?
As I later found out, my mother was supporting a little boy named "Larriz" with the amount of 20 € each month. As a result, I was willing to get to know more about this initiative and flew spontaneously to Ecuador, to the small school "Caminito de Jesus" in Guayaquil to build up my own opinion.
The openness and affection I was welcomed with by the students, school management and organisation, even though I had not been announced as a visitor beforehand, was overwhelming. As soon as I arrived, I got to know Juan, his class and his family.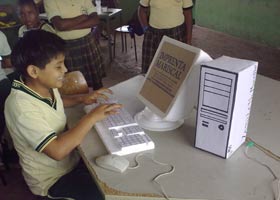 Today I am happily supporting a girl named "Ginger Luna" of that school and I am very confident about this project. Its initiators and volunteers involved that LABEL MY COFFEE will sponsor and donate a fixed percentage of its yearly profit.
If you are interested in donating or would like to learn more about Ojala e.V., please visit their homepage or contact us.
Please help, because any help is needed!
Lorenz Illing