Roasting
The roasting of our selected coffees is a philosophy. Our low roasting temperature and the correspondingly long duration of the process elicits the beans a fascinating range of coffee flavour nuances.
Due to the prolonged roasting process, acrid and stomach incompatible substances will disappear making the coffee absolutely digestible.
For the quality we take into account a weight loss of approximately 20 % because the result is a coffee where stomach problems or heartburn is not an issue.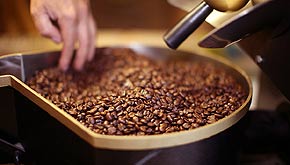 The roasting process of LABEL MY COFFEE thus means absolute quality, consciousness and high flexibility.
Finally the filling of our roasted coffees in aesthetic foils completes our production process.
To a first-class product of LABEL MY COFFEE belongs the perfect package - take advantage of our coffees know-how and claims consciousness for your own coffee and your individual aesthetic package.