Designs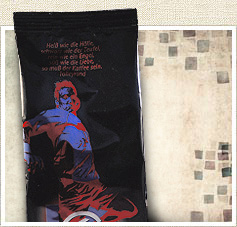 TVG coffee
The FAIR PLAY Coffee - The German Handball Bundesliga traditional club TV Grosswallstadt has supported a new merchandise product of an (sill) unusual kind. The Fan will help to actively support their favourite team TVG by purchasing the FAIR PLAY coffee costing 2 € for each kilo which will help the team live the best quality life - before, during and after each of their teams games - an absolute WIN-WIN situation for fans and club.
Partner Coffee
Through exemplary marketing of their coffee, the Aschaffenburger Partner Coffee e.V. aims to sustainably improve the economic and social situation of Colombia´s small farmers. By purchase their coffee, you not only get a fairly traded good coffee, you also assist in providing a solidarity contribution of 1.28 € to the foundation "Weg der Hoffnung" (Path of hope). For more information, please visit their homepage.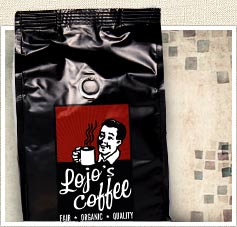 Lojo´s Coffee
You Are interested in testing our qualitity? Then you are welcome to try our Homebrand "Lojo's Coffee". It combines everything we stand for: FAIR + ORGANIC + QUALITY! No matter what type of coffee you favour - Lojo's Coffee comes in 5 different labels (Black, White, Silver, Blue and Gold), so for every real coffee lover we provide the right blend. Try it out! We are looking forward to your feedback.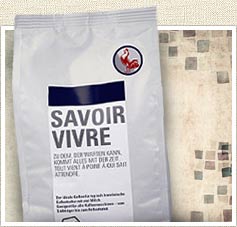 Savoir Vivre
"Tout vient à point à qui sait attendre."
Original French coffee, whether in the filter holder, or in fully automatic, whether filtered or the french-press, it does no really matter the french lightness of being, but thanks it by its full enjoyment.
We are pleased about the successful co-operation with the design agency: www.arteficium.de
Bio X-MAS Coffee
Make your holidays an unforgettable experience with a cup of freshly brewed X-MAS coffee, cappuccino or ´latte´ made with fine highland Arabica from organic agriculture, giving you a subtle interplay of a whole symphony of spices such as cinnamon, clove, anise, cardamom, ginger and fennel. The fantastic design of the package was developed in co-operation with www.arteficium.de.
The X-MAS coffee will of course be available in our online shop in the beginning of November!